Massimo Vignelli once said, "A good designer must be able to design anything from a spoon to a city." This means that the principles of good design are universal, and that these same principles must be applied to everything from logos to websites, to packaging, to planets. Raymond Loewy is perhaps the most influential designer of the last 100 years, having designed nearly everything in our modern world. His life and work spanned the majority of the 20th century, following changes in style and technology.
We've been sort of obsessed with him recently at the studio, wanting to emulate his creative drive and passion for industry. We participate in multi-disciplinary design, (right now as I write this we're working on a corporate identity and branding system, a website, and snowboard equipment.
But something about his life and flare for style is mysteriously inspiring. There's just something about that mid-century, Walt Disney-esque look and personality that I find so cool. It's made me want to grow a mustache and wear a grey wool suit in to the studio every morning. Loewy's persona is also distinctly reminiscent of Stan Lee's character from Iron Man, Tony Stark. (Created by writer-editor Stan Lee, scripter Larry Lieber, and artists Don Heck and Jack Kirby in March 1963. Loewy was a contemporary of Lee, and somewhat of a celebrity at the time, his name having been used as a selling point in advertisements for the products he designed. Stan Lee had to have been aware of Loewy, and perhaps the concept of Iron Man stemmed from this designer personality, the decadent billionaire, the creative genius. Shown above, the Time Magazine cover image of Raymond Loewy even looks like Robert Downey, Jr. from the current film version of Tony Stark.
Eventually gaining a huge client base of fortune 500 corporations, Raymond Loewy's operations were huge and focused on high budget projects. With one main design office in London, he eventually employed 143 designers, architects and draftsmen at one time.
This is a glance back at the persona, work, home, and life of Raymond Loewy.
The Studebaker Champion:
Logos by Loewy Associates:
Much of his early work was window designing for department stores in New York, print design and Illustration for Vogue and Harper's Bazaar. Shown above is a montage of logo designs produced by Loewy Partners. Below, the logo and packaging design for Lucky Strike cigarettes.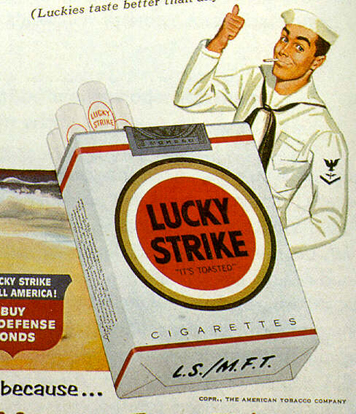 From 1936 on, Loewy and associates worked with Studebaker Motors, eventually designing the 1963 Avanti, the original streamlined sketches for the Avanti are shown below. This Car was introduced in a time when people began concerning themselves with gas prices, with a small, light sports feel, the Avanti had amazing gas milage for it's time. A used one these days, in good condition, would cost you about $15,000.
Avanti Print ads:
The Iconic greyhound bus:
In 1937 Loewy began working with the Pennsylvania Railroad, his most famous designs being their passenger locomotives. Loewy is shown below with the S1 locomotive. The S1 is an essential piece of mid-century Americana, and the perfect example of the "streamlining" design style, of which Loewy was a principal pioneer. The swept front of the train was known as the "shark nose".
Raymond Loewy's boat design: The Dorsett 59′:
At Home: The Loewy House in Palm Springs, California.
Loewy's Palm Springs desert oasis house was designed by Albert Frey in the mid 50's. Brazenly Modern for it's time, The house was originally built for $60,000, and had two bedrooms, a kitchen alcove and a boulder-lined pool that flowed into the living room. It was a castle for the king of modern streamline design, clearly a symbol of decadence for the elite of the design world. These Images echo the times had out in the California desert,  from a place where Loewy must have drawn inspiration for his many creations.
He stayed busy creating, designing, and working on projects, and refused to ever retire. Loewy lived to the age of 93. The Loewy house stands today, and his influence on the visual landscape of the modern world can be seen everywhere. He remains the most well known industrial designer of all time.